"If he had been thy guest, why with his mace, Cow-headed, has he done such violence?"
Shah Nameh
Artifacts and images found in an ancient city often dominate the impression of what life was like previously. On a four-day visit to Afghanistan in 2006, I made a one-day journey by myself. The location presented risks to travel without others, so others repeated the maxim to return before dark. So I found a local van which took me from Mazar Sharif to the ancient town of Balkh.
In my studies of this ancient city, I knew of the church tradition that the disciple Thomas preached there, and the early church writer, Bardasian stated that a well-established church dwelled in this location. The thousand years of this church existed from the second century till the 13th when Genghis Khan's invasion leveled the city. Also, the beloved Mevlana Rumi was born there, and his family fled to the west during this invasion. For these reasons and most likely the chance to see the city again would not present itself – I adventured to survey the ruins of this acclaimed city.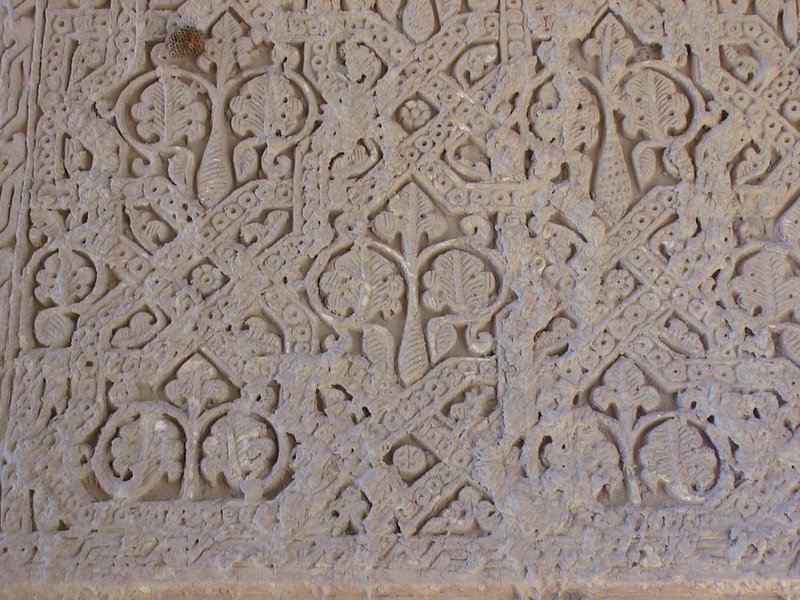 The van took me to the town center, where only a tiny bazaar evidenced itself to civil life. I walked along the ancient half-leveled mud-brick walls toward the main site. The wall structure in this location was massive and extensive. One of the highlights of this visit was seeing the nine-domed mosque structure, which half-standing, depicted palmette-shaped crosses.[1] The depictions seemed to allude to the Christian influence as the top three-leaf images and a small circled cross below the palm-liked cross. The building's purpose was worship, and these designs instilled a hesitancy in the heart of the artisans as if they were not willing to forsake the cross.
At the city site, I met a young Afghan man resting on one of the mounds. He took me to an enlarged hole in the ancient city mound of dirt. He stated this spot was where one of the important old buildings existed. From a simple glance, if it was a temple, bath, or even a civil site, no evidence made any guess possible. Then as we walked and talked, he said he had a few things he wanted to show me.
I waited in the alley near his house, and he brought out a few archaic items. One was a multi-spout bronze standing lamp reminding me of a civilization that depended on this each evening. Another miniature figure looked like a household idol, but the third was a small ceramic tile with a ruler's image. He wore a cap with horns and had an ox or cow-headed scepter in his hand, reminiscent of Feridun in the Shah Nameh. In showing these images, my guide's willingness intended to make a sale. Knowing I did not want to tempt fate, I was not about to buy some ancient object and then travel by local transportation through the northern region, eventually crossing a border. I could imagine the next political crisis formulating with a simple alley purchase. I thanked him for his time and decided best to explore on my own.
These images of city ruins and clay or ceramic images represented the past. They gave hints on how they lived and beliefs of value. These images belong to former dwellers of Balkh, and even a short glimpse gave meaning. The images demonstrated deep insights into what Balkh valued. Now this young man transmitted information to the present. These finds of Balkh portrayed ancient veneration and gave hints concerning what their makers valued. Faridun is a powerful image from the mythical Persian past depicting glory. The past Balkh acclaims were limited by the mud mounds but came alive with these art depictions.
God's image reflects what he values. It is not a mistake that we are made in his image. The Scriptures say, "So God created man in his own image, in the image of God he created him; male and female he created them. And God blessed them." (Genesis 1:27-28a, ESV). Like these ancient images, the Lord bestows value on humanity. The image displays a desired relationship and the glory of God.
Created in the image of God, man reflects aspects of Yahweh. God imparts himself and desires a continued possibility to relate together. The ancient items presented to me from the ancient city of Balkh reminded me of the past. The old formation of ruined walls and the massive mound of the former town are recollections in my mind, but the images of a former king and a lamp to light in the darkness imprint more deeply in my mind. These items reflect their beliefs and aspects of their life. How they lived and what was important to them.
The Discovery of any ancient images gives impressions about why they came into being. What is your impression? Why did God make man in his image? Doesn't this demonstrate his purpose and care for us?
He blessed us with his image and gives each of us reasons to live for him, even today!